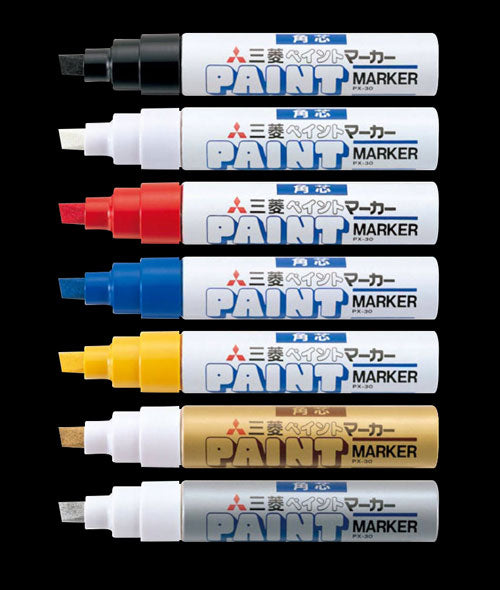 Uni PX-30
Save

$0.00
Save

$-5.99
Original price
$5.99
-
Original price
$5.99
This baby is the GOAT. It's in everyones top 5 - if it's not in yours, then you're sleeping! UNI set out to create the most reliable permanent marker on the planet, and damn, they nailed it. This baby is made for heavy industrial purposes. That's exactly why it's so damn durable and permanent. 
With a metal body, and incredibly weather-resistant, opaque, oil-based paint, the marker is stupid durable and your tags will last a decade. This ink is OPAQUE, as vibrant as it comes. It features an 8mm chisel nib, and sick pump action valve that keeps lines flowing smoothly.
Don't like chisel nibs? No problem. Flare out the nib by roughing it down on some concrete and suddenly the whole feel of the marker changes. It no longer has a sharp chisel, but a blunt, buttery, mop like feel.

If you haven't messed with one of these before, DO NOT sleep my friend. In the opinion of many great writers before me, it is the best marker on the planet. And damn, it's also one of the most affordable. Don't be a dingbat, throw one in your cart.
Pump action valve
PERMANENT oil-based paint
8mm chisel nib
Metal body
GOATED. Blankslaps favorite.